Wooded and Riverfront
We are proud to offer our newest cabin design of our Barn Style single room cabins with a farm theme and named after our farm animals in the Park . These cabins are thoughtfully equipped with what our guests need most to enjoy a comfortable and fun filled stay at the Park. All cabins have a full bed with twin over top with bedding and additional cots. They come with Heat and A/C, cable TV, small refrigerator, microwave and coffee maker with an ample storage loft for all your gear. Outside each cabin is a small entrance deck, picnic table, fire ring with cooking grate, and an outdoor sink for easy clean up. These cabins are located on both our riverfront sites and wooded riverview sites with prime access to the river.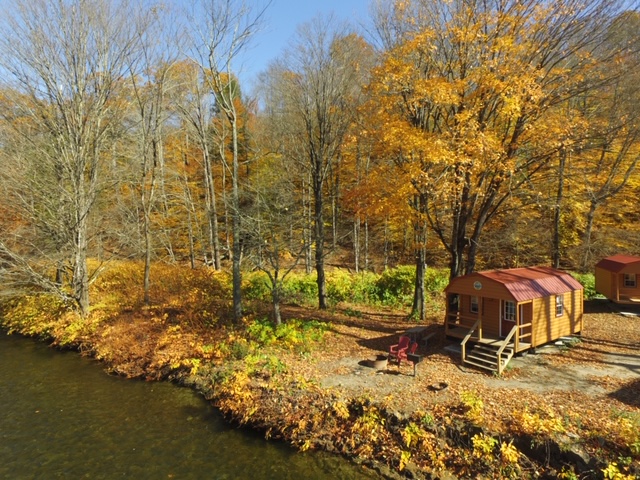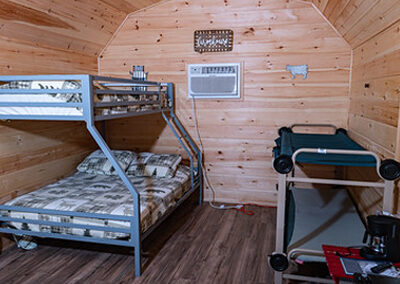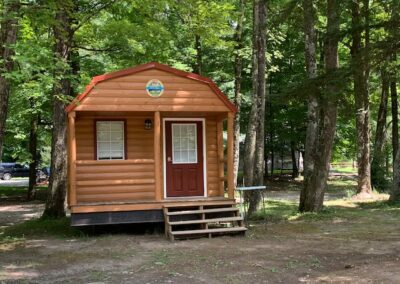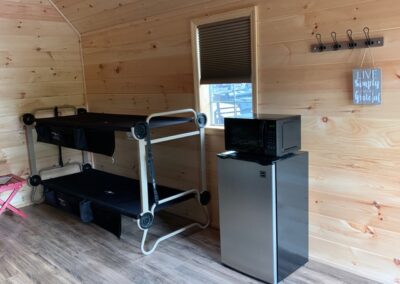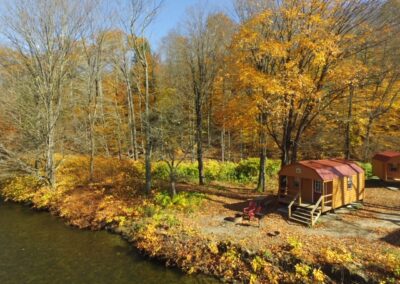 $175 Riverfront
$155 Wooded
Per Weekend Night
(Friday – Sunday) and Holidays 3 Night Minimum
$155 Riverfront
$135 Wooded
Per Weekday Night
(Monday through Thursday)
$1,142 Riverfront
$1,005 Wooded


1 Bedroom Cabin (2 Guests)
Sheets are provided.

Kitchenette
Includes Refrigerator, Microwave and Coffee Maker
Rates are based on 2 Guests.
Maximum occupancy of 5.
Check-in
Check-in Time: 4pm – 10pm
Please call 607-498-5264 for check-ins after 10:00pm.
Check-out
Check-out Time: 11am
Please note that Day Passes are not valid to extend check-out time.
Additional Guest Fee
All Cabin, Wagon and RV Rentals have an additional Guest fee of $25 per night.
Availability
All Rates are based on availability.
Pets
For Pet Friendly Cabins there is a 2 pet maximum and an additional charge of $25 per weekend stay and $50 per week stay.
Children
Children under 10 years old are FREE!